Sage
EDI

& B2B Platforms and Solutions

We provide a fully automated EDI integration solution for Sage Accounting, E-commerce platforms, and other ERP type systems. Our business to business(B2B) solution encapsulates our motto of 'automate, integrate, innovate'. We aim to automate data capture processes within a business and integrate this data with another business, system or platform all in one B2B solution without any user interaction.

Our EDI platform provides a broad spectrum of interoperability and integration between systems. The fenyaEDI platform is currently used in a wide variety of industries, processes and businesses for a number of different purposes. This only serves to prove that we are able to apply the EDI concept in almost any process, industry or business and achieve not only accuracy, but extreme levels of efficiency within our B2B solutions.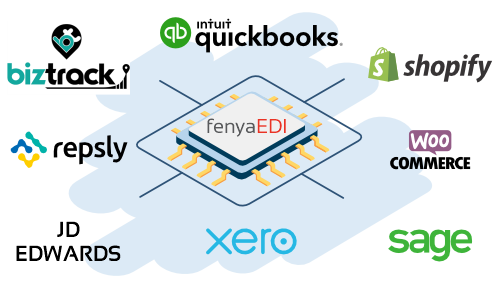 Our solutions are directly integrated with the following ERPs:
Sage 50cloud (formerly Pastel Partner)
Sage Business Cloud Accounting (formerly SageOne)
Sage 100 (formerly Sage Evolution Standard)
Sage 200 (formerly Sage Evolution Premium)
Sage 300
JD Edwards
Xero Accounting
QuickBooks
For more information on what our EDI & B2B solutions can do for your business, Contact us here.