Shopify and WooCommerce
Integration
In the changing commercial landscape of today's world, businesses must find ways to reach new customers in markets outside of the brick and mortar confines. One manner of doing this is using an online store to sell your products. While this brings about numerous benefits, it also exposes businesses to new challenges.
Common challenges businesses face are:
Capturing large volumes of customer orders.
Capturing customers' orders accurately.
Maintaining multiple sets of master data.
Maintaining multiple sets of pricelists between systems.
Within in our EDI platform we provide a seamless plugin for WooCommerce and Shopify which addresses these challenges.
Shopify and WooCommerce
Plugin

for Sage, Xero and Quickbooks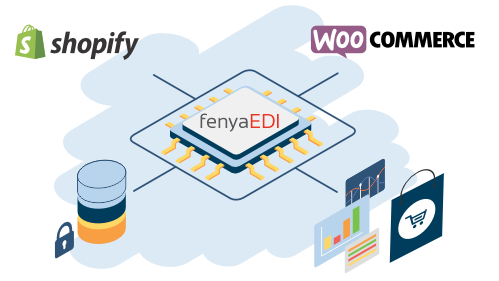 Using fenyaEDI we provide a seamless plugin between Shopify/WooCommerce and your accounting/ERP system, whereby we automatically sync:
Customer Sales Orders.

Orders are directly imported into your ERP.

Product Pricing & Information.

Which includes information such as pricing, specials and general product details.

Product Stock on Hand Figures.

Multi-warehousing compatible.
We bridge the gap between your Online Store and Accounting/ERP systems. Further to this, we provide a customised web portal whereby one can maintain an oversight of the transactions between the two systems.
For more information on what our WooCommerce and Shopify EDI Plugin solutions can do for your business, Contact us here.
< Back