fenya

WMS


Barcoded Inventory & Warehouse Management System
fenyaWMS is a feature rich, integrated barcoded Inventory & Warehouse Management System that offers direct integration into the following ERP's:
Sage 50cloud (Pastel Partner)
Sage Business Cloud Accounting (Sage One)
Sage 200\Pastel Evolution (Pastel Evolution)
Microsoft Dynamics GP
Our warehouse management system gives you greater management and control over your inventory or stock holding by using barcode scanning and direct integration as the key pillars of the stock control systems' structure. By incorporating wireless barcode scanning into your operations, our warehouse management system gives you the accuracy of barcoding and the efficiency of direct integration all in one robust inventory control solution.
Inventory/ Stock Management System Benefits
Simple and user-friendly software interface.
Robust and quality hardware(we have multiple scanners & printers to choose form).
By incorporating barcode scanning into our WMS we ensure the right products are captured, picked or transferred around your warehouse.
Using wireless barcode scanners allows a more flexible warehouse layout and removes the need for additional PCs in the warehouse.
Supervisor reporting provides a new perspective on your warehouse operations.
Cost effective tools to reduce stock loss, improve efficiencies and grow.
Use of cloud-based services means that the warehouse and accounting system can operate in separate geographical locations.
Clean and seamless Sage Pastel and Microsoft Dynamics GP integration.
Cost effective inventory control.
Maintain and accurate picture of your inventory over multiple locations.
Benefits of Barcode Scanning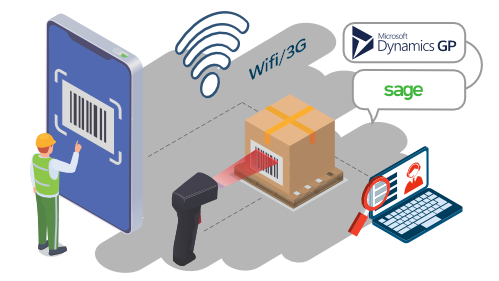 Barcode scanners ensure accuracy. Our stock control system verifies each barcode scanned—ensuring the correct stock is picked, counted or transferred.
Scanning stock items increase the speed of general warehouse processes. Less time is spent checking item details during picks or stock counts as fenya

WMS

does all the verification needed instantly.
Using integrated barcode scanners eliminates human errors tenfold.
Using barcode scanners dramatically reduces paperwork.
fenya

WMS

high level features
Direct ERP integration (No importing of .csv files).
User access and restrictions.
Full wireless capabilities (WIFI/3G).
Mobile barcode scanning.
Off-line capabilities.
Serial Number capturing.
No geographical restrictions, our warehouse management system can be deployed anywhere.
Traceability and auditing.

Keep track of every transaction.
Monitor user activities and work rates.
Detailed stock movement and history reporting\ traceability.

Stock activity reports which include:
Stock frequencies(Slow moving stock).
Stock turnover.
Dead Stock.
Over and Under stocked inventory reports.
Additional module reporting provides a new view of your warehouses.
Interactive variance reporting.
Add reasons to variances and build trends.
User activity reporting.
fenya

WMS

Inventory Control Modules
fenyaWMS is separated into different modules. This allows you to build an inventory control solution that is not only affordable, but intentionally designed for your business.