fenya

DMT

Distribution, Route Planning and Management
Companies in the supply and distribution industry typically have some of the following problems:
Collection and processing of large volumes of customer orders. Capturing large volumes of orders without software automation often results in numerous finger errors that can lead to lost sales, unnecessary costs, and poor service levels.
Accurately picking large volumes of stock for customer orders.
The generation of consolidated pickings slips without extensive admin work and errors.
Planning and management of multiple routes for multiple principals\ suppliers across a vast routing network.
Consolidating multiple sets of documents\ invoices for reporting and management decision.
Generation of insightful reporting based on raw information.
Reconciliation of sales figures and the delivery of this information to multiple principals.
Based on over 10 years of onsite experience at distribution centers all over Southern Africa we have developed an integrated system designed specifically to resolve and remove these problems from the supply chain.
fenyaDMT is a distribution and route planning tool used in the FMCG sector and combines order collection, picking, invoice processing, route management and EDI technology all in one solution. The ability to manage multiple aspects of the supply chain within one system is a key focus and benefit of software.
Integration is an integral part of our business and that is why we have expanded fenyaDMT to integrate with Sage ERP systems as well as run as a standalone system.
fenyaDMT Integrates into :
Sage 50cloud (Pastel Partner)
Sage 200 (Sage Evolution)
JD Edwards
fenyaDMT consist of 4 key components.
(1) The fenya

OrderPad

- Supply Chain Management
Order Collection & Processing
The order pad allows its users to capture orders, credits, and purchase orders. Sales orders can be grouped into routes, assigned to reps, and processed from within the order pad.
The user-friendly interface allows the user to easily locate saved orders, invoices and credits when needed.
Invoices and credits can be printed with the relevant supplier details where stock is kept on consignment.
Route Management, Planning and Delivery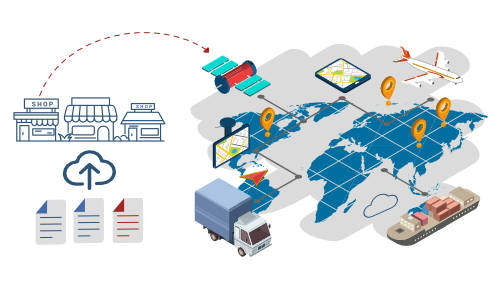 Shuffle multiple orders or invoices into organised routes based on various information, all available in one screen. Management and planning of routes can be based on location, weight, litres and more. The Route Management screen allows you to not only plan and shuffle routes, but offers several other features:
Process invoices by route and in sequence.
Print invoices by route, in sequence.
Print picking slips\ load sheets.
Print delivery schedules\ trip sheets.
Check stock on hand figures for routes.
Advanced Reporting
Management reports include rep reports, route reports, item reports, stores not sold to/visited etc. All reporting is fast, easy to read and easily accessible.
Special Pricing
Within the order pad we have developed a special pricing matrix that allows you to set up, in additional to your general base price, special pricing by item, customer category and more.
The second component in our distribution management tool is the incorporation of our Retail EDI solutions:
(2) fenya

EDI

Retail EDI Integration
As in most circumstances, distributors deal with a large volume of customer orders and from multiple sources. We provide an EDI service which will streamline this process by eliminating many hours of order capturing and human errors. Orders are electronically collected from multiple sources like;
Pick n Pay
Shoprite
Dischem
Replsy
Skynamo and others
These orders can be processed into routes, printed, and delivered all within the Order Pad. These invoices are then transmitted to your primary accounting system to ensure your accounting records are up to date.
The third component in our distribution management tool is the incorporation of our Supply Chain EDI solution:
(3) fenya

EDI

Supply Chain EDI Integration
A common tedious task in the distribution environment is the process of reconciling your sales versus your principals. Sending endless invoices and credits back to your suppliers can be cumbersome task. It takes enormous amounts of time, often there are mistakes and agreeing on sales figures is another nightmare.
Within in our distribution software, we offer an additional package that syncs your data with your suppliers, so that your system will match theirs, on a per invoice basis.
The last component in our distribution management tool is our Mobile based Field Sales application.
(4) Mobile Sales
In addition to our EDI features, we have developed an Android application directly integrated with the Order Pad system. The key features include:
Direct links between the Order Pad and the Android App, meaning:

One set of master data (no double capturing).
Customer master is synced automatically from the Order Pad to the Android App.
Inventory master data is synced automatically from the Order Pad to the Android App.

Direct Order Integration with the Order Pad

Orders are directly imported into the Order Pad, removing the need to recapture orders.

Rep Tracking

Monitor Rep hit & strike rates history with exact GPS coordinates.
So then, why our Route & Distribution Management System?
All data and information is stored in a Cloud server.
Seamless EDI integration with various sources and platforms.
Effective stock control.
Barcode scanner Integration.
Effective & intelligent route planning.
Discount pricing matrix.
Direct integration into Sage Pastel Partner/Evolution and JD Edwards.
For more information on what our distribution management solution can do for your business, Contact us here.
< Back