fenya

WMS

Sage Integrated Sales\Invoice Picking
We provide an integrated order/invoice picking solution for Sage Pastel.
Our picking solution integrates directly into:
Sage 50cloud (Pastel Partner)
Sage Business Cloud Accounting (Sage One)
Sage 200\Evolution (Pastel Evolution)
Our order/invoice picking solution allows you to scan your stock out of your warehouse using wireless barcode scanners. This system effectively removes all human errors from the picking process and dramatically increases the speed and efficiency of this process.
fenyaWMS uses a 'Control Document' method in your sales picking process to avoid mistakes and errors in this process.
The Control document is a Sales Order that has already been captured and it is used to ensure that the items picked match your original order, hence the term 'Control Document'.
Key features of fenya

WMS

Sales\Invoice Picking: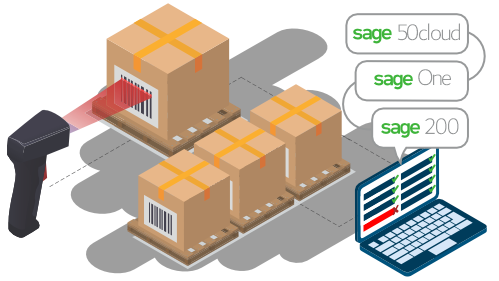 FenyaWM prints scan sheets for each sales order.
Sales orders are downloaded to the device wirelessly.
By scanning the product barcode, FenyaWM ensures you are picking the correct stock.
Real-time notifications of problem stock or variances.
The stock is picked against the sales order ("Control Document"), meaning:

The scanner will not allow the incorrect items to be scanned.
The scanner will verify whether the correct quantities are being picked.

Capture lot numbers, serial numbers & expiry dates on the device.
Print pick labels which detail by who and when the order was picked.
When the process is completed, the following will occur:

In case of any variances, the user will be required to submit a reason for these variances. This builds into detailed variance reporting.
The scanned sales order is extracted and converted to a Tax Invoice or used to confirm the quantities depending on the Sage version.
Using a control documents and barcode scanning for picking not only provides accuracy and efficiency but greatly improves stock control and worker productivity. It also improves customer satisfaction and helps build your reputation as a reliable supplier.
In addition to the general picking process mentioned above, fenyaWMS:
Tracks the time spent picking each order.
Tracks the user who picked the order.
Tracks when the order is processed.
Provides reporting on the following:

Reasons for variances.
Variances.
Picking times.
User activities.

For more information on what our goods receiving solution can do for your business, Contact us here
< Back